Whoa! The 2016 McDonald's Halloween Happy Meal is "It's the Great Pumpkin, Charlie Brown" Halloween buckets! These buckets are celebrating the 50th anniversary of the original airing of "It's the Great Pumpkin, Charlie Brown." It premiered on CBS on October 27, 1966. This Halloween special is a favorite and has aired fairly regularly over the past 50 years. I think the theme of these McDonald's Halloween buckets fits in perfectly. Will you be adding these to your collection?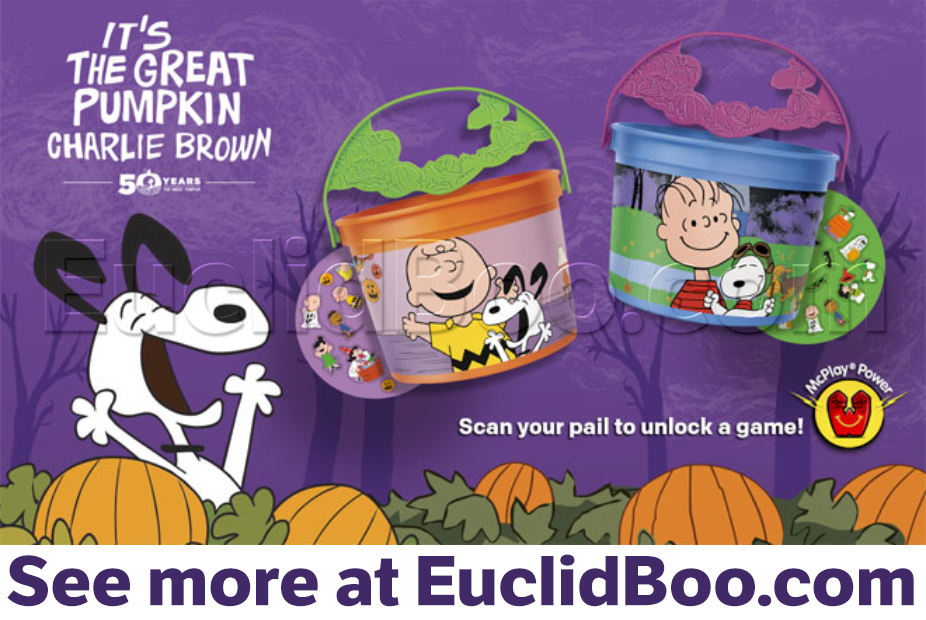 There are two new buckets being sold at McDonald's this Halloween. One is an orange base with Charlie Brown and a laughing snoopy set at the Halloween party, with a green handle. The second is a violet base with an outdoor background showing Linus and Snoopy dressed as the WWI Flying Ace. This bucket has a purple handle. The two new 2016 Halloween Happy Meal buckets have no lids and come with a sheet of stickers. The handles on each show Linus and Sally in the pumpkin patch reacting to the "Great Pumpkin" rising on Halloween night.
I haven't been this excited for the Halloween seasonal pails in many years! Watch the official commercial for the 2016 McDonald's Halloween Happy Meal buckets below.